Note: expect this site to have frequent updates prior to the contest as details are confirmed. Last updated 18-May-2010
Click here to see the tiedown assignment map.
June 15th to 24th are the dates for 2010 Sports Class National Contest to be held at Parowan airport in southwest Utah. Sunday June 13th and Monday June 14th are the practice days. Site of national and regional contests since 2004, this site is a favorite with pilots and crews who have flown and vacationed there. Lodging, dining and other amenities are plentiful in Parowan and at a major ski resort in the mountains five miles to the east.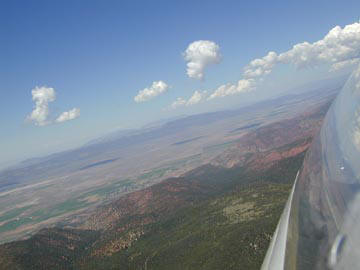 Cedar city lies 20 interstate miles away.
An impact activated ELT or SPOT is highly recommended. No gliders over a 20 Meter wingspan will be allowed.
Due to airfield limitations there will be a limit of 50 gliders. The full schedule of contest fees is shown on the Registration page. A $150 deposit with completed application packet is required by April 16, 2010 to hold your place on the list, with the remainder due at registration upon arrival. The contest fee does not include relights or aero retrieves.
The mandatory pilots' meeting will be held Monday evening June 14th at 7:00pm in the hanger.
Please read the Parowan Contest Briefing (last updated 26-Feb-10) beforehand.
Nightly dinners, at reasonable costs, will be provided by the BBQ man among others. An awards dinner is planned. Wireless will be provided, so the OLC will be available to post your flights.
Contest Officials will be:
| | | |
| --- | --- | --- |
| | Competition Director: | Charlie (Lite) Minner |
| | Contest Manager: | Larry Knauer |
| | Scorer: | Tom Pressley |
| | Chief Tow Pilot | Bob Lynn |
| | Weatherman: | Mike "The Strike" Stringfellow |